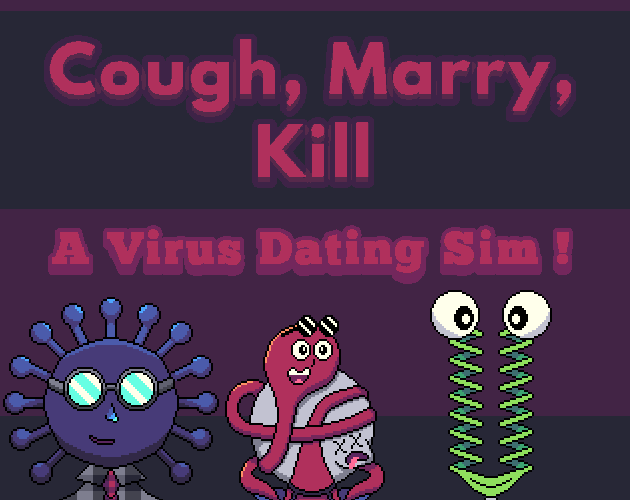 Cough, Marry, Kill
Presentation
Cough, Marry Kill is an unusual dating sim with a twist of dark humour. Play as COVID-19, a lonesome virus stranded on a human corpse. Find love on Fever, the new dating app for all viruses inside the remains of this human, and meet the faces behind these deadly diseases. Your choices matter - say the wrong thing and you could be going back to your infested cell alone tonight.
Controls
Advance through the menus and the dialogues by left clicking;
Alternatively, you can advance through the dialogues with the spacebar;
Enter / exit fullscreen with F.
You can check each virus' profile on Fever : make sure to take a good look at them, and try to behave accordingly, to get the best ending among the three there are for each virus !

Credits
Programming by TaliOS
Art by August
Music by mbg180
Narrative by inkandamaranth
Palette: Pear36 by PineappleOnPizza
Using Kenney's UI sounds pack, and the Chunkfive and LeagueSpartan fonts.
Made for Major Jam Isolation in 10 days !

Download
Download
CoughMarryKill_Update1(WINDOWS).zip
21 MB
Install instructions
Extract the zip and and launch the executable. It's that easy !